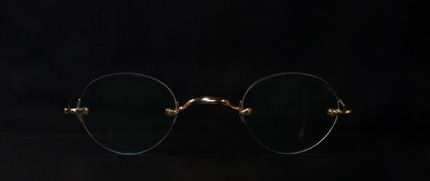 Our mission is to preserve and share the revolutionary designs and unparalleled quality
of early modern eyewear manufactured during
the 1870s-1970s.

With RetroSpecs our client will find something
unique and precious - registered hand crafted
historic and modern eyewear fabricated by
exacting old worlds standards.
In order to provide ongoing service to clients from Madison Ave to Tokyo RetroSpecs & Co has developed a vast cataloguing system for antique frames.

An antique captain's map chest housed in the RetroSpecs & Co. showroom on Melrose Avenue contains one piece of each design ever collected, organized in a categories of original manufacturer and style. Frames are mass produced metal eyeglasses made from the 1920s through 1960s were made out of 12K gold-filled wire and hallmarked by the manufacture. Today the archive holds over 3,000 designs from over 15 different manufactures. ►►►
When an antique frame leaves RetroSpecs & Co. headquarters, it receives a Registration number. This number is recorded in the bridge and temples based on the archive. In addition to design information, bridge width (5 size) lens size (14), temple length (8), lens shape (over 100) as well as the color of the frame (White, Yellow and Rose) and lens color (seasonal) is recorded. With over 10 million possible variations, a Registered number specific to each frame is stamped on card to be given to the customer to insure future service.

RetroSpecs & Co. antique frames have a one-year warranty and lifetime guarantee the parts will be available for the frame. ◄◄◄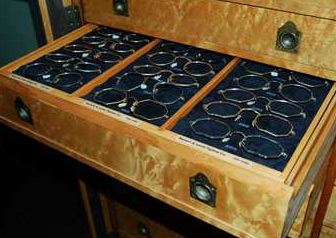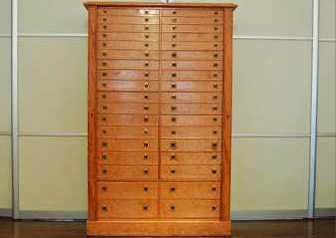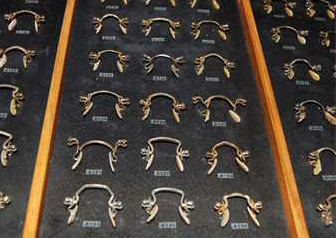 Each antique frame that enters the restoration factory in Los Angeles goes through an extensive restoration process before receiving a Restoration number approving the frame for sale.

The process begins with overnight ultrasonic cleansing. Then the frames are disassembled and the parts are sorted by company. Each part is then thoroughly examined to determine which step in the restoration process the part should proceed to.

RetroSpecs & Co. has developed restoration techniques requiring custom made machines to do much of the restoration of the frames. On staff is Cecil Health, a retired Chief engineer who worked at Shuron and Artcraft Optical for 25 years during their heyday. ►►►
Cecil has custom designed more than 15 machines for soldering, swaging, milling, straightening, bending and curling that has enabled RetroSpecs to restore almost any gold-filled frame to its original condition.

The final step in the restoration process is the tumble polish. Frame parts are loaded into 50-year-old oak lined barrels recovered and restored from the original Bausch & Lomb factory. These barrels tumble for several days in order to achieve the original brilliant gold finishing these frames are known for.

When the parts are restored to perfection they are re-assembled into a frame in its original form with either original bakelite nose pads or newly cast 12 K gold nose pads. ◄◄◄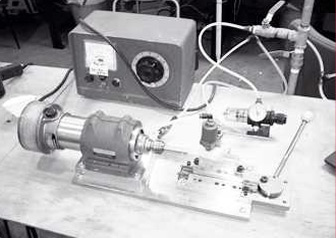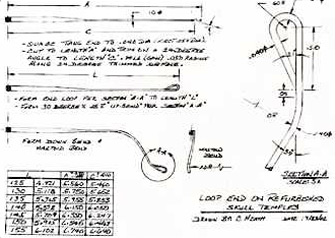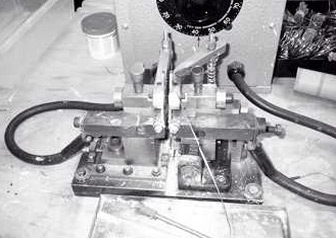 RetroSpecs & Co. distributes its collections to the absolute finest optical retailers and specialty stores worldwide. An exclusive RetroSpecs dealership is carefully chosen based on its commitment to excellence in customer service and optics as well as an uncompromising sense of style and old world craftsmanship. Each of our dealership manages extensive historic and contemporary RetroSpecs collection, can do custom fittings and is authorized to service or restore any RetroSpecs frame.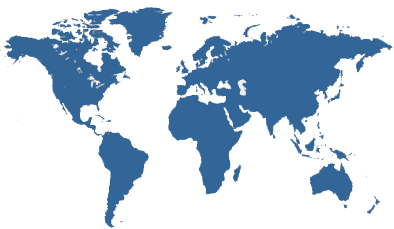 Chose
a
Collection
Early Modern:
Circa 1910- 1950 1/10 12k Gold Filled Wire Frames
Late Modern:
Circa 1910- 1950 1/10 12k Gold Filled and plastic Combination Frames
Vintage:
Circa 1970-1999 Gold Plated and zyl
Speciality:
Circa 1910- 1950 1/10 12k Gold Filled unique designs and rare pieces solid gold nose pads.
Museum:
Circa 1870- 1970 Exceptional designs,solid gold and one of a kind pieces
Horn:
This timeless connection is milled from the finest south indian horn